October 15, 2016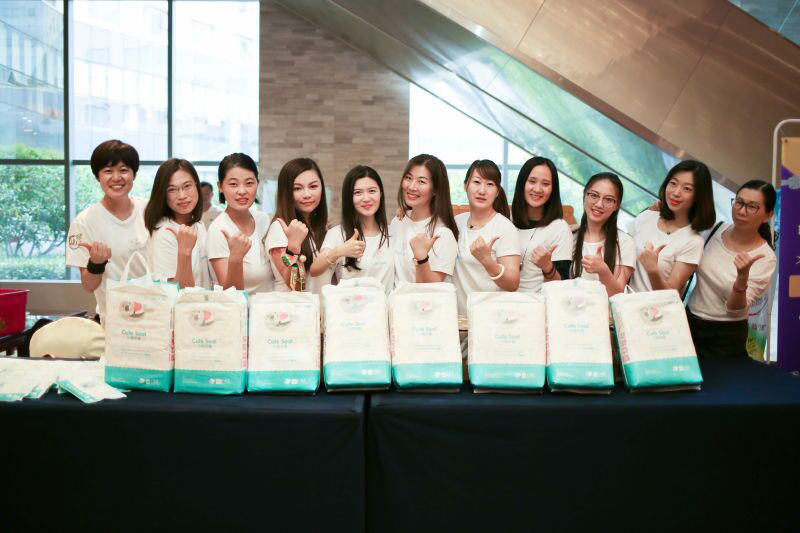 In collaboration with My Gym, Cute Seal hosted a large-scale parenting seminar held by a well-known parenting expert, Lian-Mei Ji.
Attendance at the convention runs to a thousand or more people. Moms touching and derive a high opinion of Cute Seal diapers.
September 25, 2016
Cute Seal was featured in the Vancouver International Fashion Week.
Cute Seal was honored to be invited to showcase our products among other brands including Lanvin, Dolce&Gabbana, Moncler and other international brands at the 2016 Vancouver International Children's fashion week, an event that we held successfully for 16 years and counting. At the show, Cute Seal became the first diaper brand to walk on an international T-stage.
September 19, 2016
Together with My Gym, Cute Seal carried out a large-scale parenting lecture by Zheng Yuqiao, a famous parenting expert!
Attendance at the convention runs to a thousand or more people. Moms touching and derive a high opinion of Cute Seal diapers.
September 18, 2016
Cute Seal's quarterly sales reached $10 million!
Thanks to the effort of the Cute Seal team, sales have reached $10 million in the second quarter of 2016!
September 14, 2016
900,000 Cute Seal NB-Sized Diapers were sold within 6 hours online.
After the NB-sized diapers were introduced online, sales reached a record of 900,000 within the first 6 hours!
Cute Seal's "Full of Love" video released
Please watch our video on how love created the Cute Seal brand!
September 9, 2016
Cute Seal's advertising video full of love came out.
The background of the story was about a lovely family from Canada: Mom and dad were from Canada and Spain. In order to give the best love to children, they chose soft Cute Seal's diapers. The mother said when I touch it, just like the Vancouver magnificent clouds, which brought their children the most comfortable and softest feeling.
September 7, 2016
Cute Seal Received Safety Filing with FDA
After three months of the rigorous reviewing process, Cute Seal has received a safety filling with FDA; thereby gaining access to the US market.
August 5, 2016
Cute Seal entered the Dubai market.
UAE officially authorized CUTE SEAL INC., Canada Cute Seal international maternal and infant products to be the best strategic partner and the most trustworthy brand for the Middle East consumers.
August 1, 2016
Cute Seal opens the "I'M A HOT MOM AND I SPEAK FOR CUTE SEAL" contest
Show your love of Cute Seal and win a prize!
July 17, 2016
Cute Seal passed the SGS certification and obtained CE safety certification of environmental protection.
Cute Seal has successfully passed the authoritative Swiss SGS test and CE environmental protection certification of EU children's products! It has successfully got the 'passport' of European market and the Middle East market!
June 20, 2016
Cute Seal started trial operations for the WeChate Terminal
Other than our mobile APP, Cute Seal developed WeChat terminal intelligent background system for Chinese users and fully started operations today. Cute Seal baby diapers are on sale in China!
Cute Seal Mobile App Fully Launched!
Cute Seal created a new type of interactive supplier a mobile app to allow parents to open small businesses that help other new parents as well!
June 16, 2016
Cute Seal App was online comprehensively.
Cute Seal created a new type of interactive maternal electricity supplier to let babies' mothers have their own small business that they can spend and make money at the same time.
May 8, 2016
Cute Seal's public official account sent the first message.
Cute Seal entered China and its public official account was available to provide better services for Chinese mothers.
April, 2016
Cute Seal entered into the Chinese market formally.
Settled in Qianhai Free Trade Zone, Shenzhen, "Xiao (Shenzhen) International Trade Limited Company" was established and won the maternal and infant supplies management rights!
2011-6-2
The Cute Seal baby diapers idea was born
The concept of the softest cute seal baby diapers was born in a Vancouver family with love! Cute Seal officially entered the team formation and preparatory stage!